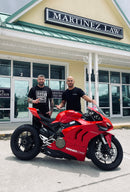 Description
$100 for 1 digital download album.
MUST BE 18 YEARS OR OLDER TO ENTER. ANY LEGAL RESIDENTS OF THE 50 UNITED STATES, U.S TERRITORIES, PUERTO RICO, & CANADA CAN ENTER.

You are paying for a digital album. If you are looking to purchase more than 1 photo album/entries. Please check out 1 at a time to get a order number per entry. Do not add multiple per cart. add 1 at a time,
Example: 1 Digital download = 1 entry ($100).
2 digital downloads = 2 entries ($200) you must check out one at a time to have your other entry number No limit on entries per person. 
1st Place Winner: 2021 Ducati Panigale V4 or $15,000
2nd & 3rd Place Winners: $100 each.
 ---------------------
SPECS ON BIKE:
2021 Ducati Panigale V4 Panigale.
- 7.5k miles
- 217hp.
- Under Ducati unlimited milage warranty worldwide
Factory Equipped options/upgrades
- Both original keys
- All paper work
- Brand new rear Pirelli Diablo Supercorsa III
- Added lifetime battery warranty included (up to 3 FREE replacements)
Aftermarket Mods:
- CS Racing Exhaust
- Alif Performance complete lowering kit
- Brent Tuning Stage 1 Flash with handheld flasher. (You can switch back to OEM tune at anytime).
- 2 Maps included. (1)Tuned on Pump 93, (2) Tuned on MR12 [217+HP]
- Sprint P08 filter
- Ducati OE brand Carbon fiber tank cover upgrade
- NRC fender eliminator kit (LED tucked license plate holder)
- NRC Mirror block off's with integrated LED turn signals
- Arrow bar end mirrors
- Arrow billet bar end mirror adaptors
- Brake caliper spacers (Reflector delete, OEM reflectors included)
- Optional OEM rear seat/OEM painted rear tail/ OEM passenger foot pegs
- All OEM parts included minus OEM exhaust
- Ducati V4S front fender
- All service and maintenance have been done.
General Rules: All applicable federal, state and local laws apply. All potential winners will each be contacted by email, telephone, regular mail or overnight mail, and may be required to complete, sign and return an affidavit of eligibility, a liability release, and lawful release within a stated amount of time (7 days). The return of any notification as undeliverable, or failure to respond to notices or return any required documents in a timely manner, or a determination that a potential winner is ineligible or not in compliance with these official rules, as determined by the promotion administrator, may result in disqualification of the winner and forfeiture of the corresponding prize. ALL SALES ARE FINAL. NO REFUNDS
FAQ:
How do I enter?  Purchase an $100 digital photo album on this page. Each order is one entry. Your order number is your entry number. You'll be automatically entered for a chance to win A prizes.
Can I purchase more than 1 album?  Yes, You are allowed to purchase as many as you like.
How fast will I receive my order? Once you place your order your digital download link will be emailed to you or you can directly download the files on your order conformation page.
When will it start? 4/29/22 7pm (Eastern standard time).
When will it end? When all entries are sold out
If I win how to collect prize? Our legal team will contact each winner directly by phone, email or mail. Winner has 24 hours to respond and get back to us. Failing to due so will result in losing their spot and will be re-drawn to pick a winner.
If I win 1st place how will I receive the vehicle/motorcycle or prize? After verifying the winner and all entries, Our legal team will make arrangements for you to pick up the vehicle/motorcycle or prize. If winner selects bike and is not local we can arrange delivery of the vehicle for you at no cost to you. If it's the $15,000 prize, our legal team will make arrangements to deliver the prize.
Are Taxes, Fees, Plates, Tite, and Registration include? You are responsible for all necessary costs regarding registering this vehicle in your state. Every state has different requirements and fee amount.
How will the winner be announced? The drawing will be conducted at the LAW OFFICES OF DANIEL MARTINEZ PLLC, who certifies that the Giveaway will be conducted fairly and in good faith.
The drawing will done using https://www.random.org/ 
All decisions are final and subject to the approval of the legal department.
For any questions. Contact our legal team: LAW OFFICES OF DANIEL MARTINEZ
3565 Jupiter Blvd SE. Ste 2. Palm Bay Fl 32909
https://themartinezlaw.com/
Payment & Security
Your payment information is processed securely. We do not store credit card details nor have access to your credit card information.